Orders can be place Friday  through Wednesday on our Shop Page

When you place an order you will receive an Order Confirmation Email.
We Roast Coffee Fresh on Thursday.
Orders are placed in our Coffee Box at 135 Range Rd. Sandwich NH Friday Morning
When your order is in the Box, an email will be sent to you with Pick Up instructions
Please bring the Box code to open the Coffee Box. It is on both Emails.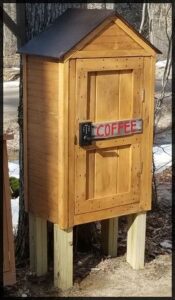 Sandwich Coffee Roasters

135 Range Rd. Sandwich, NH 03227

sandwichcoffeeroasters@gmail.com